PTFE Teflon Fiberglass Conveyor Belt
The PTFE coated fiberglass conveyor belt is one kind of high performance and multipurpose composite material, which is high quality glass fiber coated with the PTFE emulsion.

Features Of PTFE Teflon Fiberglass Conveyor Belt:
1. Temperature resistance from -70C to +260°C.
2. Non-stick surface, easy to clean.
3. Chemical resistance. Be resistant to various organic solvent.
4. Good stability in size, high strength, good mechanical performance.
5. Bending fatigue resistance, and can be used on smaller wheel.
6. Non-toxic, and can resist almost all pharmaceutical products.
7. Fire Proof.
8. Air permeability of the conveyor belt can reduce the heat-consuming, and improve the drying efficiency.
Applications Of PTFE Teflon Fiberglass Conveyor Belt:
(Any industry which need conveyor belts in heat air flow or heat processing)
1. Textile and dyeing: drying for textile printing, dyeing, shrinking, non-woven fabric, and in industry oven.
2. The loose-dryer, offset, UV curing machine, paper oil drying, UV drying, plastic printing drying.
3. High-frequency wave drying, microwave drying, food refrigeration and defrost, baking, packaging heat shrinking.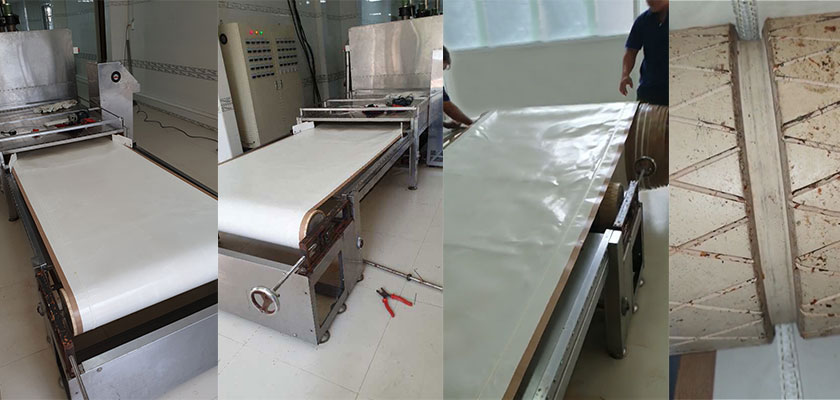 Physical Characteristic For The Fabric Of PTFE Teflon Fiberglass Conveyor Belt:
Item No.

Color

Thickness (mm)

Weight of Fiberglass(g/m2)±3%

Total Weight (g/m2) ±5%

Tear Strength (N/5cm) ±5%

Temperature Resistance


Warp

Weft

CWF-0070

black/white/brown

0.065

48

70

500

460

-70 ~+280℃




CWF-0150




black/white/brown




0.07




48

150

650

550

-70 ~+280℃




CWF-0165




black/white/brown




0.08

48

165

700

600

-70 ~+280℃




CWF-0130




black/white/brown




0.095




105

130

820

800

-70 ~+280℃




CWF-0220




black/white/brown




0.105




105

220

900

750

-70 ~+280℃




CWF-0230




black/white/brown




0.115




105

230

1150

1000

-70 ~+280℃




CWF-0250




black/white/brown




0.125




105

250

1200

1100

-70 ~+280℃




CWF-0300




black/white/brown




0.14




105

300

1350

1250

-70 ~+280℃




CWF-0350




black/white/brown




0.17




165

350

1750

1550

-70 ~+280℃




CWF-0360




black/white/brown




0.18




165

360

1800

1650

-70 ~+280℃




CWF-0275

black/white/brown




0.2




205

275

2000

1800

-70 ~+280℃




CWF-0440




black/white/brown




0

.22




205

440

2400

1650

-70 ~+280℃




CWF-0490




black/white/brown




0.23




205

490

2200

1750

-70 ~+280℃




CWF-0500




black/white/brown




0.24




205

500

2200

1850

-70 ~+280℃




CWF-0500




black/white/brown




0.25




205

500

2500

2000

-70 ~+280℃




CWF-0620




black/white/brown




0.28




293

620

2500

1800

-70 ~+280℃




CWF-0385




black/white/brown




0.31




283

385

1900

1400

-70 ~+280℃




CWF-0620




black/white/brown




0.32




255

620

3000

2100

-70 ~+280℃




CWF-0690




black/white/brown




0.35




333

690

3200

2200

-70 ~+280℃




CWF-0770




black/white/brown




0.39




333

770

3200

2100

-70 ~+280℃




CWF-0540




black/white/brown




0.43




405

540

3500

2400

-70 ~+280℃




CWF-1000




black/white/brown




0.53




538

1000

4200

3500

-70 ~+280℃




CWF-1180




black/white/brown




0.63

578

1180

4500

3800

-70 ~+280℃




CWF-1550




black/white/brown




0.78

768

1550

5500

4000

-70 ~+280℃




CWF-1600




black/white/brown




0.9

865

1600

6500

5500

-70 ~+280℃




CWF-1250




black/white/brown




0.98

852

1250

6000

5000

-70 ~+280℃